Events
August 4 - September 1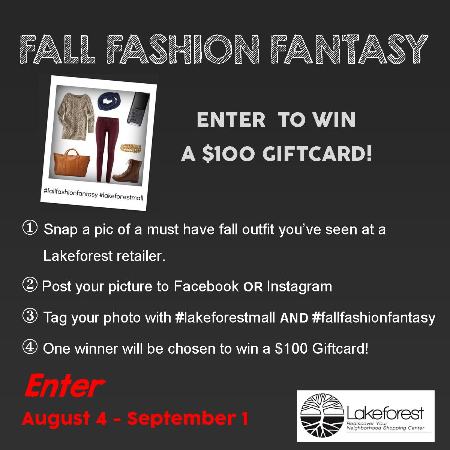 Official Rules and Regulations
1. ENTRY: This promotion takes place beginning mall opening on Monday, August 3 at 10 a.m. and runs through mall closing on Monday, September 1, 2014, 9 p.m. (the "Submission Period"). Participation in this promotion constitutes your full and unconditional agreement to and acceptance of these Official Rules and decisions of Lakeforest Owner LLC, (the "Sponsor") which are final in all respects. To enter, participants must snap a photo their favorite fall outfit they've seen at a Lakeforest Mall retailer during the Submission Period. Participants must then post the photo to Lakeforest Mall Facebook or Instagram accounts, tagged with #Lakeforestmall and #fallfashionfantasy. Limit two (2) total submissions per person per Submission Period. No photocopied or mechanically reproduced entries will be accepted. More than two submissions from one person per Submission Period will disqualify all submissions. Once a submission is made, you will not be permitted to change that Submission. Entries become Sponsor's property and will not be returned. Sponsor has the final decision on all submissions. All submissions must be received by 9 p.m. Monday, September 1, 2014 via Facebook or Instagram. Winner will be announced 12 p.m. on Tuesday, September 2 via Instagram and Facebook. Entries are void after Monday, September 1, 2014 at 9:01 p.m.
2. ELIGIBILITY: The Lakeforest Mall Fall Fashion Fantasy Giftcard Giveaway Facebook/Instagram Contest ("The Contest") requires no purchase necessary to enter or win. Not open to residents of Rhode Island. Open to legal residents of the remaining 49 United States and Washington, D.C. Must be 15 years of age or older at time of entry. Void where prohibited by law. Employees, agents and representatives of Sponsor; its merchants and their affiliates, suppliers, advertising, prize-sponsoring, promotional, or judging agencies; and the immediate family members of such employees are not eligible to win. Odds on becoming a winner will be determined by the number of entries received. Participants must have a public Facebook or Instagram account and must like/follow the official Lakeforest Mall Facebook/LakeforestMall page or Instagram handle @LakeforestMall. Submissions may not contain, as determined by the Sponsors, in its sole discretion, any content that:
• Includes any individual who is not appropriately dressed. All persons photographed must be clothed top and bottom;
• Contains any personal information;
• Contains obscene, provocative, defamatory, sexually explicit or otherwise objectionably or inappropriate content;
• Communicates messages or images inconsistent with the positive images and/or good will to which the Sponsor wishes to associate; and/or
• Violates any law.
By making a Submission, participant warrants and represent that he/she consents to the submission and use of the Submission in the Contest and its use otherwise set forth herein. The Sponsor reserved the right to disqualify any Submission for any reason, in its sole and absolute discretion, including its determination in its sole discretion that a Submission fails to satisfy any of the above requirements.

3. PRIZE: A prize list, including the value of each prize, is available at the Lakeforest Mall Management Office. One (1) winner's submission will be randomly drawn from all submissions collected during the Submission Period on Tuesday, September 2, 2014, 12 noon. The winner will be announced via Lakeforest Mall's Instagram and Facebook accounts and instructions given on how to claim prize. A designated official of Lakeforest Mall will conduct the contest. Winner must claim his/her prize within forty-eight (48) hours of Sponsor's notification. If the prize is not claimed or the winner does not meet eligibility requirements, subsequent drawings will be held from the remaining entries, allowing forty-eight (48) hours to claim the prize, until an eligible winner is found. Winner will come to Lakeforest Mall Management office during normal business hours to claim the prize. If winner is under 18, a parent or legal guardian must accompany. Legal proof of age will be required to claim prize.
4. PRIZE RESTRICTIONS: Sponsor reserves the right, in its sole discretion, to substitute a prize or prizes of equal or greater value for any and all prizes. No other substitutions or cash equivalents allowed. Prizes are non-transferable. Winner is solely responsible for reporting and paying any and all applicable federal, state, and local taxes and any additional fees associated with the prize. All federal, state and local laws apply. Sponsor will not make any cash payment, for any reason, after each winner is awarded his/her prize. All prizes will be awarded.
5. WINNER RELEASE: This promotion is governed by the laws of the State of Maryland. By accepting the prize, winners agree to release Sponsor, Lakeforest Owner, LLC, a Delaware limited liability company, Urban Retail Properties, LLC, a Delaware limited liability company, its Property Manager and their respective members; and Five Mile Capital Partners, LLC and their respective merchants; agents, affiliates, employees, suppliers, and advertising, promotional, or judging agencies; and any prize-sponsoring agency from any and all liability whatsoever for injuries, damages, or losses to persons and property which may be sustained in connection with the receipt, ownership, or use of the prize or while preparing for participation in and/or traveling to any prize-related activity. Prize winner may be required to sign affidavits/disclaimers and tax forms. Winner consents and agrees to the use of their names, photographs, and voices or likenesses for broadcast and promotional purposes by Sponsor during and after the contest, without compensation by Sponsor. The MasterCard® Giftcard awarded as a prize is subject to standard terms and conditions applicable to the Visa® giftcard.
6. PRIZE LIST: A total of one (1) $100.00 MasterCard® giftcard will be awarded.
7. WINNERS LIST: For a complete list of winners and/or copies of the official rules, send a self-addressed, stamped envelope postmarked by September 30, 2014 to: Lakeforest Mall Management Office, Attn: 2014 Fall Fashion Fantasy Giftcard Giveaway, Lakeforest Mall, 701 Russell Ave., Gaithersburg, MD 20877.
Thursday, Sept. 11 at 10:30 a.m.